Spy or Nazi?
Sydney Morning Herald, April 1, 2012
by Frank Robson
Special Branch spy disguised as a Nazi supporter in late '60s Brisbane.....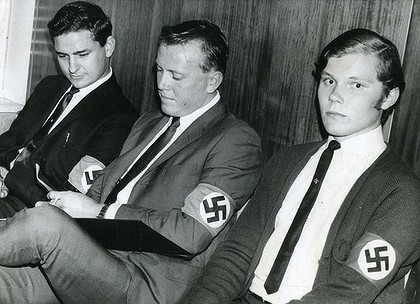 Inside the murky past of Dan Van Blarcom (centre)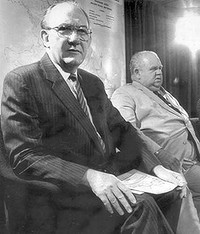 Recruited by Special Branch detective, Don Lane, in March 1968
Timeline:
November, 1967
Dan Van Blarcom arrives in Brisbane with his parents and younger sisters.
March 1968
He says he is approached at a protest by Special Branch detective Don Lane, who will pay him to hang out with a Nazi group and report on their activities. He joins the National Socialist Party of Australia to monitor one of its organisers, Eric Wenberg.
1970
A 19-year-old Van Blarcom is photographed by "The Canberra Times" wearing a swastika armband during a meeting at the ACT Legislative Assembly.
Early 1971
Van Blarcom returns to Brisbane and tells his handler that he wants to end his involvement with Special Branch.
1975
He joins a Brisbane anarchist group saying he is a ''committed fascist'' who's had a change of heart.
January 2004
Days before the Queensland poll, a journalist uncovers Van Blarcom's involvement with neo-Nazi groups. The Nationals dis-endorse him.
Read the full article (182KB)